Workflow: Jenson Leonard
Skip to get tickets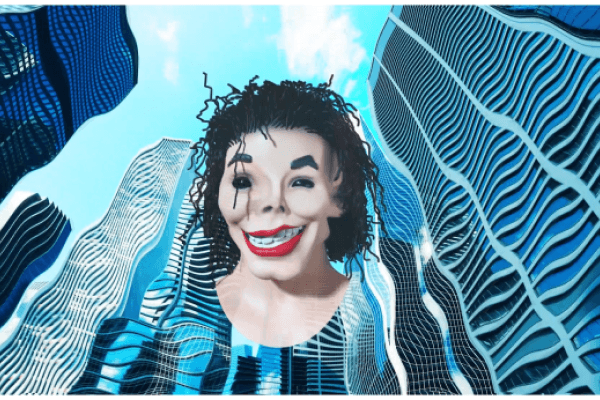 Workflow: Jenson Leonard
Fri, Sep 22 - Sun, Feb 11, 2024
The Pittsburgh Cultural Trust
Wood Street Galleries

Ticket Prices

Free
Workflow, the first institutional solo exhibition of artist Jenson Leonard, centers on a titular film that explores the velocity and momentum of Blackness as it relates to the philosophical concept of acceleration—the notion that the only way out of capitalism is through its intensification.
In Workflow, a spectral Michael Jackson Halloween mask recites a surrealistic quarterly earnings reports. Building on a 2017 essay by artist Aria Dean titled "Notes on Blacceleration," the short film centers on the ways in which the Black subject grapples with its commodified status within the labor market despite—or, resultant of—its own history as a commodity, stemming back to the Trans-Atlantic slave trade. Completed during Leonard's residency at Pioneer Works in 2021, the video utilizes uncanny humor as a mechanism to expose the shared grammars inherent in Afro-pessimism and speculative finance.
Within the exhibition, the film repeats simultaneously across two grids of computer monitors situated on ergonomic desks that flank the gallery, mimicking the workstations that can be found ubiquitously across stock trading floors and financial institutions. Sculptures modeled after computer keyboards and mouses are displayed on the desks, each rendered inoperable by concentric riffs that symbolize the erratic transformations caused by the flows of capital. The appearance of Jackson represents a transmogrification of its own; whereas many have aligned the controversial pop icon's bleached skin and surgical procedures with Black self-hatred, Leonard positions his bodily modifications as a radical rupture from racial paradigms of being.
In Leonard's own words, "Workflow is defined as the sequence of industrial, administrative, or other processes through which a piece of work passes from initiation to completion. My film seeks to disabuse notions of completion, whether it be completion of the human, the nation state, or civil society. As Dean notes, Blackness is 'always already accelerationist' via its incongruence with Western humanism, a wrench thrown into the locomotive gears of 'capital and subjecthood.' Her essay prompts us to look toward the way that the Black has been historically constructed outside of the human, as coterminous with the slave. Slavery therefore represents a kind of proto-automation, a mass forced coercion of labor, and the Blacks' transition from object to subject calls for a reappraisal of accelerationist ideas about the (non)human entity and its revolutionary potential."
The artist continues, "There is something about going to work—the repetition of it—that gets inscribed at an epigenetic level, as an everyday, embodied violence. From there, I thought about the panoptic workplace (open air plan, transparent yet closely surveilled, management that does not have to be in the room to be monitoring you), the fetish of efficiency (ergonomic mouse and keyboards so you can work longer), biometric data of a labor force (fingerprint and facial scans to help reduce repeat processing tasks). All of these methods to maximize profits and production can be traced back to methods worked out and perfected in the cotton and sugar cane fields hundreds of years prior."
About the Artist
Drawn to ideas of flight, escape, and poetic blur, Jenson Leonard's (b. 1990, Detroit, Michigan) work takes form out of the collapsed context of the internet—often critiquing its slippage of meaning and techno-capital excess more generally, while pointing out its attraction at the same time. He holds an MFA in Creative Writing from Pratt Institute, and has completed residencies at Obracadobra (Oaxaca, Mexico), Squeaky Wheel (Buffalo, NY) and Pioneer Works (Brooklyn, NY). His work has been featured in VICE Motherboard, Juxtapoz, AQNB, and Rhizome.
Workflow: Jenson Leonard is organized by Pioneer Works, and curated by Gabriel Florenz and Vivian Chui. It is presented at Wood Street Galleries by the Pittsburgh Cultural Trust and organized by Anastasia James, Director of Galleries & Public Art.
Image: Jenson Leonard, Workflow (image still), 2022. Courtesy of the artist.
Regular Hours
Wednesday - Sunday 11 am - 6 pm | Closed 12-12:30 pm


601 Wood Street




Pittsburgh

PA

15222